Live in Downtown Boulder in One of Our Pearl St. Houses for Rent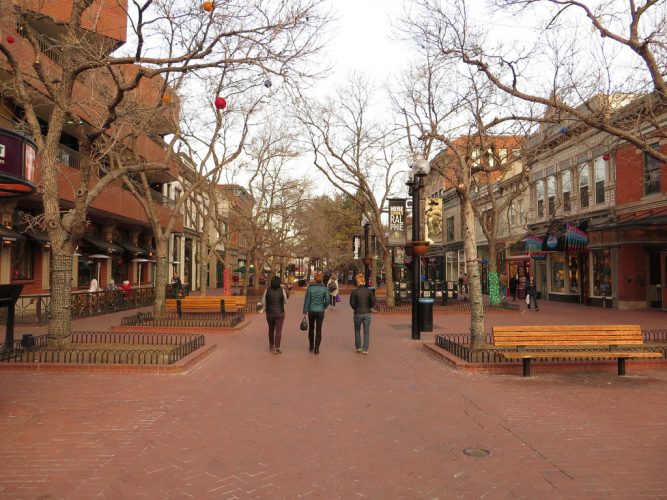 Downtown Boulder is often thought of as the hub of the city. It's a vibrant area brought to life by dozens of shops, restaurants, and even street performers. Relocating here will put you right in the center of all this activity, while still allowing you to feel a sense of nostalgia. Here are a few reasons to consider downtown Boulder houses for rent.
Location and History
The downtown area is situated between Arapahoe Avenue in the South to Spruce Street in the North. It stretches from 8th Street in the West to around 19th Street in the East.
Right in the center of the downtown area lies Pearl St. Gold miners in the late 1800s first laid out this street beginning at the intersection of Pearl and Broadway and continuing eastward. Pearl St. would later carry horse-drawn and electric streetcars, as well as the Interurban Railroad. In 1917, Pearl St. became the first paved road in Boulder, setting the stage for automobile traffic.
Auto traffic continued along Pearl St. until 1976. After passing a resolution establishing the Pearl St. Mall, the Boulder City Council closed traffic along Pearl St. between 11th and 15th Streets.
ATTRACTIONS
Pearl St. is best known for its variety of street performers. Aside from jugglers and balloon artists, you may also encounter "zip code man." David Rosdeitcher, better known as zip code man, amazes his audience by being able to name their hometown based only on a five-digit zip code. Or you might also run into Ibashi-I, a contortionist best known for folding his six-foot tall frame into a 20-inch cube made of Plexiglass.
If you're a music buff, visit Pearl St. in summer for Bands on the Bricks, where local groups provide amazing concerts for free. You might even take in a few musicians playing solo in front of the many shops near the Pearl St. Mall.
Landmarks and Amenities
Not only does downtown Boulder have plenty to do, but there is also loads of historical landmarks and amenities. Many are within walking distance of our Pearl St. houses for rent and include:
NEIGHBORHOOD HIGHLIGHTS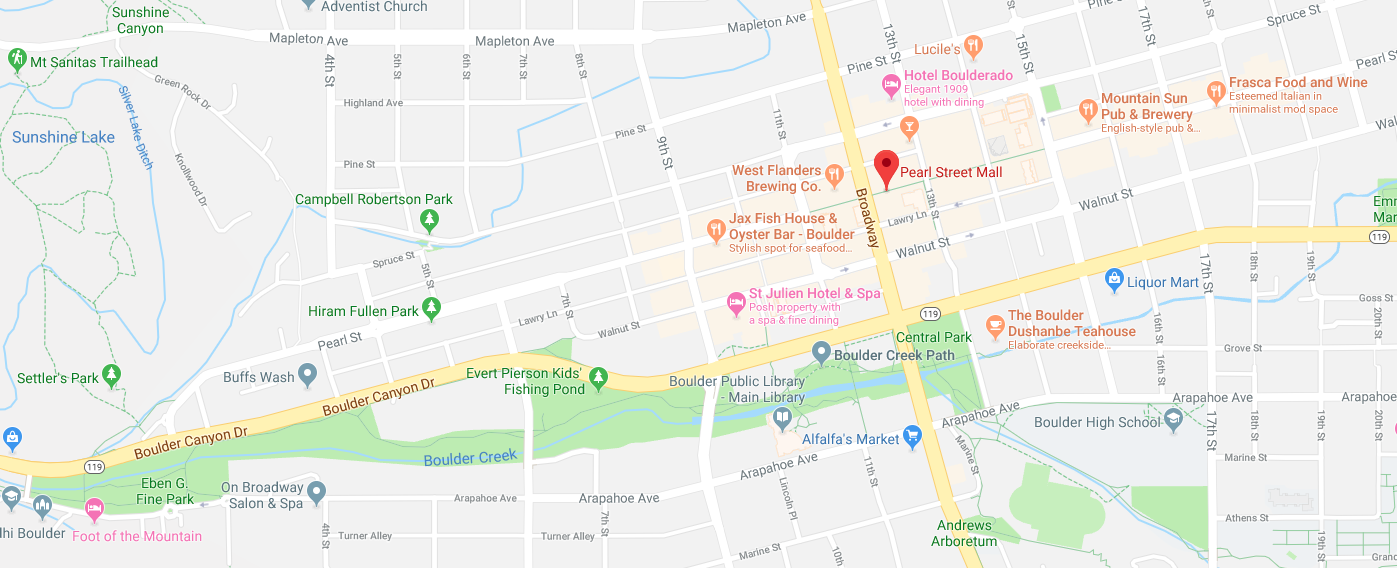 Pearl St. houses for rent consist of everything from quaint cottages and bungalows to sprawling, two-story brick homes with attached garages. Among Pearl St. apartments for rent, you'll find a nice selection of one, two, and three-bedroom units. Most are within walking distance of Pearl St. and downtown attractions, and just a short distance from other city attractions such as:
CU Boulder Campus
Central Park, a park that is smaller than NYC's Central Park but spectacular nonetheless
Boulder Creek Path
Red Rocks and Sanitas trailheads
The downtown area (and Boulder in general) is very bicycle friendly. So you can easily ride around town or even to one of the local trailheads located just outside the city. For example, you can easily cycle to Betasso Preserve (a technical trail for mountain bikers) or the National Center for Atmospheric Research by accessing the bike paths along Broadway.
Ready to Enjoy Living in Downtown Boulder?
By living in downtown Boulder, you'll be right in the heart of the city and will have easy access to everything Pearl St. has to offer. We have a number of Pearl St. houses for rent that are ideal for college students, newlyweds, or even families. For a complete listing of properties or to schedule a showing, please contact us.
The Boulder Property Management Advantage
Not only can we help you find the best houses and apartments for rent in the most desirable neighborhoods in Boulder, but being a part of the Boulder Property Management family means that you can rest easy, knowing you are in good hands. With every Boulder Property Management rental unit, you will have access to:
24-7 Emergency Maintenance – if your bathroom starts leaking at 2 AM or you are locked out of your home – give us a call
Easy, online payment portal that makes paying your rent simple and seamless
Convenient pre-leasing options to help you determine your housing early in the year
A huge selection of well-maintained properties with a team of professionals that are readily available, friendly, and knowledgeable. The BPM team will help you narrow down your options so you will find the best living arrangement that will satisfy all of your needs
No matter where you are in the renting process, we are here to assist you! Please give us a call, send us an email, or swing by our office to find out how we can help you find your next (temporary) home!