North Boulder, Colorado Houses and Apartments for Rent
North Boulder, called NoBo by many, lies less than two miles from the hustle and bustle of Downtown Boulder but feels like a calm and peaceful locale comparatively. Anchored by quiet residential streets, NoBo has a distinct neighborhood feel but also has a retail and restaurant scene that is on the rise. North Boulder houses to rent are within range of everything you could want, from organic grocers to easy mountain access, without the confines of hectic city living.
Location and History
North Boulder's boundaries can be slightly different depending on who you ask. Some people say it's north of Valmont Road while others argue anything north of Pearl Street is North Boulder. The neighborhood came into existence shortly after WWII. Large parcels of land were purchased in hopes of selling them to returning soldiers. As the neighborhood began to establish itself so did retail with one of the city's first shopping centers, North Broadway.
Attractions and Amenities
Living in North Boulder gives you access to an ever-expanding restaurant landscape. North Boulder is known to offer a great variety of ethnic foods to expand your dining horizons. With all the great restaurants popping up in this area you might start to worry about parking and crowds, but unlike Downtown Boulder, you never have to fight for a parking space or table in NoBo! NoBo also has independent grocers and a variety of shops unique to the area.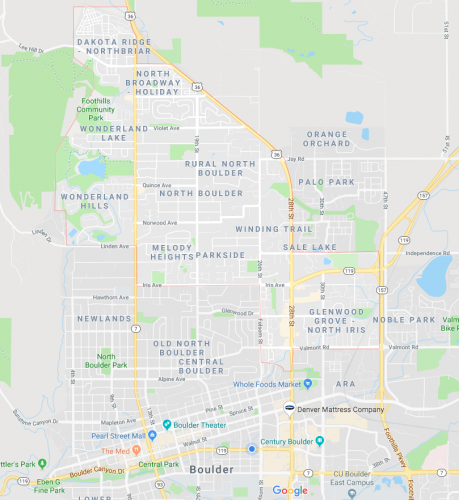 North Boulder also offers many options to get outside and enjoy all that Colorado has to offer. From NoBo you have easy access to Lyons, Estes Park, and Rocky Mountain National Park. If you want to stay in town but still enjoy the outdoors, North Boulder has plenty to offer. Wonderland Lake Park, located on the West side of Broadway, offers hiking, parasailing/paragliding launch areas, and fishing. Wonderland Lake Park also houses the Foothills Nature Center which offers a variety of nature programs to residents. North Boulder has plenty to offer everyone, from college students to families. Here are a few more spots you will want to check out in North Boulder:
Housing
North Boulder houses to rent range in size and style, from a single-family home to an apartment or townhouse. Many housing developments being built in North Boulder are very focused on sustainability and green living.
Whether you are a college student looking for a place to live outside of the busy campus scene or a family looking for a community with lots of options for healthy living and outdoor life, Boulder Property Management can find you what you need! Contact us today to start your rental search!