CEO & President / Employing Broker
Jared Minor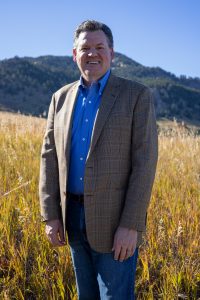 Jared Minor is one of the Co-Founders and the Chief Executive Officer of Boulder Property Management. He started BPM in March of 1994. Along with his other partners, they have since built the business into one of Boulder's leading property management companies with over 900 total units under management. Boulder Property Management has managed over 1.3 million square feet of residential and commercial real estate in Boulder!
Jared's business career began in mid-town Manhattan, New York as a Commercial Real Estate Leasing and Associate Broker in the late 1980's for Newmark Real Estate Services. Jared then worked on Wall Street at the firm Furman Selz for a few years as an Institutional Trader. In 1993 he visited Boulder with the intention of putting together real estate investment opportunities for multiple investors from New England. After purchasing several multiplex buildings however, he quickly realized that there was a great need for a local full-service property management company. Within a few months Jared migrated to Boulder and seized the opportunity to fill a void by creating an all-inclusive property management company designed to make sure that in-state, and out-of-state owners, would feel comfortable that their asset(s) were being managed thoroughly and professionally.
Jared and his partners are continuously focused on providing exceptional customer services to its owners and tenants. Boulder Property Management takes pride in offering preeminent communication and complete cost transparency of expenses so the owners and tenants are not being nickeled-and-dimed with hidden fees.
The principles of Boulder Property management are very proud of the fact that 75% of BPM's portfolio has been retained with long-term owners with a 20.2 year average! In addition, BPM has an average of 10.5 years in retention of its Team Members. No other management company in Boulder has a better reputation than Boulder Property Management – we value our relationships with our owners, our tenants, and the Boulder community more than any other property management company! This is because we truly care!
Other Notable Interests:
Jared is currently the Chairman of the Board of the Kenneth King Foundation which is a private grant making organization located in Denver, Colorado. The Foundation's mission is to perpetuate and expand the humanitarian principles developed by our late founder Kenneth King. Today, the Foundation supports non-profit organizations that provide basic needs, create jobs, and develop entrepreneurship with a corpus of $63 million dollars.
Jared also has been selected and approved to become a board member of The Greenwood School located in Putney, Vermont. He will become the first alumni in the school's history to serve on the board.
Jared is one of twenty-five members that participates in the prestigious Wetar Investment Club III which convenes in the Eisenhower room at the Cherry Hills Country Club in Denver once a month.
For many years Jared was a cycling enthusiast and had completed three transcontinental cycling trips across the United States from coast-to-coast, in 2005, 2007, and 2009. During Jared's third crossing of America, he found an abandoned dog in the middle of nowhere in the middle of Texas. Jared convinced the humane society to keep the dog until he could reach Savannah, Georgia two weeks later. Immediately after Jared dipped his front tire in the Atlantic Ocean, he immediately flew back to Dallas, Texas, rented a car, rescued the dog, and drove the "dirt dog" up to Boulder, Colorado. By the time they both reached Boulder, the "dirt-dog" was renamed "Lilly" and she quickly became the BPM mascot. Eleven years later, Lilly is still available and delighted to meet new friends down at the office.
If you wish to read the full story of Lilly, then please click here.